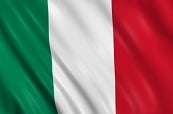 Documents, Parcels and Luggage Delivery
Sending a parcel to Italy? We can send not only your parcels but also documents, luggage and pallets from the UK to anywhere in Italy from big cities like Rome, Milan, Naples, Turin, Palermo, Genoa, Bologna, Florence, Bari and Catania to Scandicci or anywhere else in the country.
We have got a choice of economy or express parcel delivery services to Italy at hugely discounted rates.
You can book your collection online and the courier will come and collect the parcel either from your home or work address.  Alternatively, you can drop your consignment off at your nearest DHL Service Point.  There are over 1200 DHL Service Points located in high streets and retail outlets across the UK. Therefore, there is bound to be a DHL Service Point near you.
Since Italy is part of the EU, customs clearance is not required for parcels sent from the UK to Italy. This may change after Brexit. The transit time to Italy if you use express service is 1 to 2 days while the economy service normally take around 3 to 4 days.
Once your parcel to Italy is collected, you will be able to track it to its destination as all shipments are trackable. In addition, if you enter the receiver's email address during the booking process, then the receiver will be notified by email when the parcel is collected, when it is out for delivery and also after delivery.
Italy is the 7th largest export economy in the world and the 20th most complex economy according to the Economic Complexity Index (ECI). 
Italy has a long standing trade relationship with the United Kingdom.  United Kingdom Exports to Italy was US$13.19 Billion during 2017, according to the United Nations COMTRADE database on international trade.
Benefits for UK businesses exporting to Italy include:
European Union (EU) market, so no tariffs
similar regulatory framework to UK and modern intellectual property protection practices
appreciation for British professional services and technologies and quality consumer goods
easy access from the UK with low cost flights from several regional airports
only 1 hour ahead of UK time
Strengths of the Italian market include:
modern infrastructure
high level of internationalisation and entrepreneurship, with fully integrated supply chains
strong manufacturing and innovation capability in several areas
hosts many trade exhibitions with global appeal
one of the world's highest rates of household wealth
one of the world's top 5 tourist destinations
How to Lower Your Courier Costs
As a thank you for taking the time to look at our rates, we would like to offer you a completely free e-book entitled – "How to Lower Your Courier Costs". The e-book contains compelling tips to help you choose the right parcel service provider.
To receive a free copy of this ebook and join our mailing list for special offers, tips, free reports and regular newsletters, click the button below!