Fed up with Royal Mail / Post Office?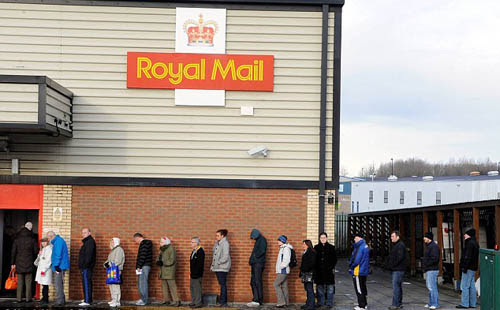 Using an online reseller such as Planet Couriers helps you to save time and money.
Royal Mail may be one of the oldest services of its kind in the world. However, the service customers obtain from this organisation is often abysmal. It is not uncommon to queue for more than 20 minutes to be served at the Post Offices. Many customers give up and leave the queue before it's their turn or never join it when they see how long it is. Restricted opening hours have also exasperated this problem.
A survey also found out that a third of the post office counter staff were found to be issuing customers with incorrect proof of posting documents – leaving customers with insufficient proof with which to claim compensation for lost or undelivered mail/parcels.
Besides the length of queues, proof of posting and restricted opening hours problems, customers are pressed to buy services they do not want. The use of 'active up-selling' at Post Offices, which sell all types of financial products from travel money to mortgages, has led to 'a considerable number of consumers being charged for a more expensive product when cheaper alternatives would better meet their needs'.
Furthermore, sending heavier parcels through Royal Mail/Post Office is much more expensive.
The best alternative is to use online resellers of parcel delivery services. These resellers address almost all of the above problems related to the Royal Mailservices. Planet Couriers Ltd / Peleka is one of the online resellers which provide express courier and parcel delivery services.
Benefits of using Planet Couriers / peleka.com
No queue: Since the services of Planet Couriers / Peleka are available online, you can arrange your shipments from the comfort of your armchair. Your package can be picked up from any location.
Available 24/7 . You can book you shipments anytime of the day. Collections take place between 9am and 6pm.
No problem with proof of posting. As soon as you arrange your shipment you will receive an email with the relevant documentations. You can also access your documents such as sales invoice/order confirmation by logging into your account any time.
No up-selling. You will not be pestered to procure any other services which you do not want as Peleka site is solely for express courier and parcel delivery services.
Discounted prices : Planet Couriers / Peleka has accounts with the world leading major carriers such as DHL and get a hugely discounted rates which it passes on to its customers
What Our Customers Say ….
"….. Planet Couriers can see the needs of a small business like ours and will endeavour to meet them all the time."
"Planet Couriers have provided us with excellent courier service, delivering to … our customers daily in a timely manner."